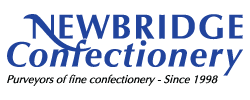 - Terms Of Trade & Use Of Website
Please read these terms carefully as they are the terms under which the customer ("you") agrees to use this website and/or purchase the products ("the products") from Newbridge Confectionery. No other terms or representations shall form part of these terms unless agreed in writing between and you and Newbridge Confectionery. These terms do not affect your statutory rights.
Ordering
1.To place your order follow the steps indicated on-line.
2. The appearance of the products on this website is an invitation to you to make an offer for their purchase by placing an order with Newbridge Confectionery. Newbridge Confectionery has the right to refuse orders and no contract will subsist between you and Newbridge Confectionery unless and until Newbridge Confectionery accepts your order by e-mail. That acceptance will be deemed complete and effectively communicated to you at the time Newbridge Confectionery sends the e-mail to you (whether or not you receive that e-mail).
3. The products are subject to availability. If Newbridge Confectionery does not supply the products to you for any reason, Newbridge Confectionery will not charge you for these products and will refund any money already paid for the products. However Newbridge Confectionery will not be responsible for compensating you for any other losses which you may suffer if Newbridge Confectionery does not supply the products.
4. Despite the fact that any contract relating to orders placed through this website is concluded over the internet, we each agree that it has been concluded in the United Kingdom in writing. Any such contract will be interpreted, construed and enforced in all respects in accordance with English law and we each irrevocably submit to the non-exclusive jurisdiction of the English Courts.
Delivery
5. The ordered products will be dispatched by Newbridge Confectionery to you within 3 days of the date you place your order although, because delay is sometimes outside of Newbridge Confectionery's control, time of delivery shall not be of the essence. As such Newbridge Confectionery shall not be liable for any losses, costs, damages, charges or expenses caused by any delay in the delivery of the products. If you have not received the products within 28 days you may contact Newbridge Confectionery by email quoting your order reference number and cancel that order. Newbridge Confectionery will refund any money paid by you in relation to that order.
Pricing
6. The prices for the products are as indicated on the website and are stated in UK Pounds. These prices include applicable sales tax and duty. The cost of any order must be paid by you up-front by a credit or debit card acceptable to Newbridge Confectionery.
Returns
7. If the products are unacceptable products then, subject to availability, Newbridge Confectionery will send you a replacement. In this event you must return the unacceptable products to Newbridge Confectionery within 7 days of Newbridge Confectionery sending the replacement or Newbridge Confectionery will charge you for the cost of the replacement as well as the original products, by charging it to your credit/debit card or by other means. In the event that you do not want a replacement for the unacceptable products then, upon their return, Newbridge Confectionery will give you a full refund of the purchase price of the unacceptable products as well as the delivery charges reasonably incurred in relation to returning them to Newbridge Confectionery (after you provide to Newbridge Confectionery an appropriate receipt for such charges).
Copyright and Trade Marks
8. The names 'Beaumont & Ward' and 'Katie Hill' together with logos and many of our other product and brand names are registered trade marks of Newbridge Confectionery and may not be reproduced without Newbridge Confectionery's permission. All designs, text, graphics, arrangements displayed on this website and all software compilations, underlying source code, software and all other materials on this website are owned by or licensed to Newbridge Confectionery and its affiliates, or their content and technology providers. ALL RIGHTS IN THE SAME ARE RESERVED. Permission is granted to electronically copy and to print in hard copy portions of this website for the sole purpose of placing an order with Newbridge Confectionery or using this website as a shopping resource. Any other use of the materials on this website (including reproduction for purposes other than those noted above, modification, distribution or republication) without Newbridge Confectionery's prior written consent is strictly prohibited.
Disclaimer
9. To the fullest extent permitted at law, Newbridge Confectionery is providing this website and its contents on an "as is" basis and makes no (and expressly disclaims all, except fraudulent) representations or warranties of any kind with respect to this website or its contents. Newbridge Confectionery does not represent or warrant that the information accessible via this website is accurate, complete or current.
General
10. Failure by Newbridge Confectionery to enforce any of these terms will not affect its rights to enforce any of these terms at any time in the future. If at any time any of these terms or part of a term are/is found to be invalid or unlawful by any court then such term or part term shall be deemed severed from these terms and the remaining terms shall be deemed valid and subsisting. These terms are subject to change at any time without prior notice to you. Newbridge Confectionery advises you to print and keep safe a copy of these terms.